In today's world security has become main priority let it be your office or home. Isn't it ? In market there are many security and surveillance gadgets available like CCTVs, videodoor phones, burglar alarm systems,etc.But which one to choose wisely becomes the question of many of us,right?
Recently well known brand panasonic has launched its new video door phone product VL-SW 250BX in the market which act as your home guard likewise.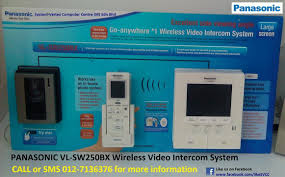 This model is somewhat different from other models available in market. It comes with wireless handy monitor in addition to the main monitor, you can take the handy monitor anywhere in your house ;it though works in the range of 100 metres. When someone push bell of outdoor unit you can see it in main monitor and also in handy monitor; which you can take anywhere in range of 100 metres.It has 5.2″ wide LCD screen. Even if you are not at home it has capability to take picture of that person and store in its memory, it has recording capacity of 400 images.If suppose any unwanted person comes it also has voice changer option also,which you can use at that time. Huh na?

This gadget is available at online stores like eBay, snapdeal & Amazon ,its easy to install and also easy to use. So why waiting, order one for you.as
Written by – Pavitar das